Breaking of Bread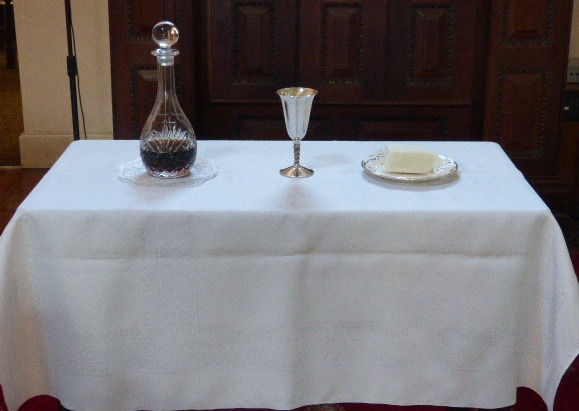 On the night before the Lord Jesus died, He gave His disciples a simple command to eat bread and drink wine in remembrance of Him. So we, as his followers, do this every Sunday morning to remember the Lord Jesus and all that He did for us by dying on the cross.
This service gives us an opportunity to meet together to praise and worship, but what makes this service particularly special, is the fact that the risen Lord Jesus promises to be with us when we are together (Matthew 18v20).
Visitors are welcome. Those in fellowship elsewhere are kindly requested to bring a letter of commendation from their home assembly.
Gospel Meeting
Sunday 4:30pm–5:30pm except the first Sunday in the month (see below)
The Lord Jesus and all that He has done is of the greatest importance, so every Sunday there is an opportunity to hear God's good news, a message that everyone needs to hear and believe.
As well as singing hymns, we usually have a speaker to preach from the Bible.
Visitors are made very welcome.
Gospel Tea
First Sunday in the month, Service 4:30pm–5:30 pm, followed by tea.
This special service is particularly planned to enable families with young children to come too. After a hymn, the speaker will give a short talk for the children, who then take part in activities, while the service for adults continues.
After the service, we enjoy tea together. Visitors of all ages are made very welcome.
Bible Discovery Club
This group is especially for children to learn about the Bible. We enjoy arts and craft, games, songs and Bible stories.
Children, aged 5-11 years, come straight from school, and activities and refreshments are available from 3.30.
The atmosphere is inclusive and non-competitive: children under 5 are welcome to attend with their older siblings as long as a parent/guardian takes responsibility for them. Parents of older children are welcome to stay and join in too.
All staff and helpers left alone with children have DBS/CRB checks.
Encounter
For young people aged 11-16 years.
Prayer & Bible Study
We begin our meeting with some time of prayer together, meditating on issues that we may have on our hearts as well as other matters that require prayer such as World affairs. We then open God's Word together as we read and study the Bible together. This is a fantastic opportunity for fellowship and discipleship.
Ladies' Meeting
This is an opportunity for women of all ages to meet and sing hymns, share Christian fellowship and hear the good news Christ has to offer. Transport can be arranged. Visitors are always welcome.
If you have any further queries, please do not hesitate to contact us for more details.